Diary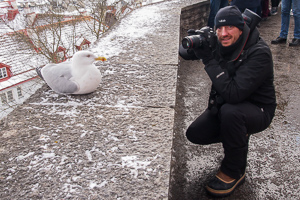 Regular updates from Oliver's recent expeditions.

Images on the slideshow galleries are available to purchase online except for those that are sold exclusively by RSPB Images. For these images please visit Oliver's RSPB Images profile to purchase.

All other images can be purchased as acrylic, aluminium, aluminescent, canvas or mounted prints. Prices include postage. Orders can be placed by telephone or email too if you prefer not to pay by Paypal. For more details about the product styles visit Oliver's Prints page.

13 February - Wiltshire, UK
A late winter visit to the buzzard hide in Wiltshire was a great way to fill a mid-week day off. I've been working on a garage project and whilst I waited for the next phase to take shape, I enjoyed the close encounters with six buzzards, two red kites, magpies, carrion crows and a raven all in the space of a few hours.

The variety of images from compositional perfection to frame-filling action makes this a fantastic opportunity to get close to some of our most charismatic common British species.

The hide is rented to photographers and bird watchers on a daily basis and you can book a place to use the hide on my hide bookings page.

I'm just hoping there will be another bout of snow and I will get over there as soon as it is possible to do so!

9 - 10 February - Somerset Levels, UK
As the winter nights start to show signs of lengthening, I often take a trip to the Somerset Levels to enjoy the spectacle of the starling roost but also to track down many of our over-wintering waterfowl and waders.

The Avalon Marshes covers a vast area and within this superb wetland habitat is Ham Wall, owned and managed by the RSPB. This year the starlings have been roosting near the Avalon Hide so on the first day we made our way to the hide for the roost. Needless to say the sun didn't appear, however the spectacle was remarkable and so close to the hide you could hear the birds chatting to each other in the reedbeds. I used slow speeds for virtually all the shots on this day and also converted the images to black and white which worked well.

On the Sunday we headed to Greylake, also managed by the RSPB on the off-chance of seeing Common Snipe close to the hide. In fact we were amazed by the quantity of birds just in front of the hide and spent several hours with a cold head-wind beating against us photographing the birds. The sun appeared for large chunks of the morning which delighted us and allowed for some great action and compositional shots.

The afternoon and evening was spent back at Ham Wall where the sun continued to shine with rim-lighting around the low clouds at sunset. All in all a magical weekend in one of Britain's most excellent wetland inland locations.

23 January - 1 February - Goa, India
A last minute opportunity to visit Goa in India to spend a wonderful 10 days with Lauren was something I could not miss. I was luckily already on holiday and so a quick flight and visa booking and off I went.

We spent some time along the coast to the north of the state and then taxied over to stay in a delightful lodge called Nature's Nest to the east, just outside a number of park boundaries. We visited Mollem National Park and Wildlife Sanctuaries at Bondla and Bhagwan Mahavir.

The birdlife was fantastic and generally very approachable, where we tallied some 150 species and 35 lifer birds. I was also lucky to spot a Palm Civet on one of my nightly walks and plenty of Indian Giant Squirrels too.

2 November 2018 - Wiltshire, UK
A unique experience and a chance to revisit a hide that I helped to design on a private farm in Wiltshire. I love watching wildlife behaviour and this visit was an amazing opportunity to watch the 'mantling', 'intra/interspecific competition' and 'sparring' of Common buzzards Buteo buteo.

Set on the side of a hill the distant farmland offers a pleasing backdrop to the action on the hillock in front of the hide. The hide is available to be used on a daily basis up to three people in a group. For future hide session dates please visit my hide bookings page. Bookings will be limited and only available for short periods on each release of new dates. The hide is booked for the sole use for you and your group up to a maximum of three people.

21 October 2018 - Bushy Park, London, UK
After the drama of Richmond Park on the Saturday, I decided to visit Bushy Park on Sunday for some contrast to the habitat with a chance of different compositions. What I didn't expect was the mist was so thick it was not possible to see more than 20m to begin with.

It was therefore a gamble which direction I went in and I chose to head east, predicting that if the sun appeared I would at least be looking the right way. What I never imagined was the extraordinary combination of light and conditions that formed, perhaps some of the most dramatic I've experienced. The sun broke through the mist, creating wonderfully atmospheric images with light rays bursting through the tree canopy and an orange misty glow beneath.

20 October 2018 - Richmond Park, London, UK
Timing is one of the most valuable assets to a wildlife photographer. You can visit a site many times but when the conditions work it can give you the wow factor.

A visit to London in October was planned to coincide with the autumn Red Deer rut. The timing for the rut itself was probably slightly too late but at this time of year the inversion of temperatures can create amazing misty conditions over the parkland. Getting a strong sunrise to coincide created incredibly atmospheric conditions for shooting.

Once the mist had been burnt off and the main drama was over it was then time to explore the rest of the park and capture some of the other interesting native and non-native species that make the city home.

26 August - 9 September 2018 - Svalbard
Seeing the arctic in the autumn is always interesting with the changing colours of few plants, the migration of wildlife departing for warmer climes and the reappearance of some snow on the peaks.

To see Svalbard in this way, I decided to do so via a small schooner, the Noorderlicht, which I sailed for ten nights around the western and north-western reaches, finally crossing 80 degrees north and visiting some remarkably stunning locations.

With a small group of sixteen and five crew this was a magical journey visiting cultural and historic sites as well as remote spits for campfires and arctic wildlife.

This very small selection of images captures some of the beauty and wildlife of this unique archipelago.

28 - 29 April 2018 - Hawk Conservancy Trust, Andover, Hampshire, UK
Two weekends each year I lead bird of prey and owl photography workshops. In the spring I focus on wildflowers, blossom, props and green habitats with fresh new foliage.

In the autumn I look for beautiful colours to compliment the birds, including leaves, bark, fungi and any other interesting props or ideas I have on the day. I also encourage and tutor skills for flight techniques too.

Here are a selection of images from the two spring workshops in April 2018.

For future workshops please visit my events page, however please note that these days are booked up very quickly so please book early to avoid disappointment.

22 - 27 February 2018 - Estonia
A chance visit to this beautiful country following a prize draw win at the British Birdfair in 2017.

The prize was for three days photographing White-tailed Eagles near Parnu in the south of the country. Unfortunately the weather was particularly cold, dropping to -23 at times and the 'reliable' birds decided not to come to the feeding station.

Fortunately there were a few other wildlife interests, namely a Least Weasel which entertained us for 30 minutes or so, but having missed our target bird we left a little disappointed. For an additional two days we explored the delights of Tallinn, a wonderful little city with lots of history to take in.

16 - 30 January 2018 - Vietnam
With 276 species of bird and 16 species of mammal, our two weeks in this lovely country was in species counts a relative success.

Unfortunately early in the trip, which latterly included a week in Cambodia too, I tripped and jarred by lower back. This caused a lot of discomfort throughout the tour, but it did appear to improve, that is until I returned home where it triggered a complete failure and I slipped a disc! One of the most painful things I've ever experienced and I'm very glad that after many months I am fully recovered.

Vietnam has suffered similar destruction as so many other countries throughout the World and this was very noticeable with the vast areas of forest cleared for plantations (often rubber) and the lack of species in some areas was evident. Fog hampered some of our higher elevation excursions but overall it was a pleasant visit to the country.

The wildlife and birdlife was, as usual, very special and the pittas in particular were enjoyable to watch at length.

7 - 26 May 2017 - India
My first big experience in Asia, having only visited for a 10-day trip to Nepal last year. India was to be special however, as this was a trip to see one of the largest land carnivores on the planet.

I spent 21 days in national parks and some 20 tiger game drives and a further 10 rickshaw trips in Keoladeo. I was actually surprised at how difficult it was to locate tigers, however once found they would normally hang around for a decent period of time!

The locations and habitats were very interesting and diverse. Visiting during the dry season allowed better visibility, however it is generally a lot hotter. I spent roughly three days at each of the following: Tadoba, Pench, Kanha and Bandhavgarh.

23 April 2017 - Hawk Conservancy Trust, Andover, Hampshire, UK
Certainly the highlight for the group this spring was a pair of Long-eared Owl Asio otus chicks that we were allowed to photograph under close supervision.

I used an old crow nest and built it up to make it look as natural as possible. Two handlers were on standby just in case one wanted to take an early fledging!

The other great opportunity this spring was the use of a hovering Common Kestrel Falco tinnunculus being trained by one of the falconers. Although the images show the ankle equipment it was the perfect chance for the group to practice their tracking and panning skills.

11 February 2017 - Wiltshire
I shall never cease to be impressed by the wildlife of the British Isles. I get to travel to some remarkable foreign destinations, however I equally enjoy visiting local sites and spending hours watching and photographing wild species in the UK.

During the winter I enjoy visiting a friend's farm in Wiltshire to experience the sights of wintering Short-eared Owls Asio flammeus and the numbers of Common Buzzards Buteo buteo and Red Kites Milvus milvus that visit a feeding station. Lots of set-aside land and overwintering provisioning also attract a large number of passerines which I shall attempt to spend more time on in the future.

18 - 27 November 2016 - Nepal
Nepal is one of those places which you long to visit, plan for years and then spend a month there (at least!). In my case I had a keen interest to go, booked it within two weeks of being offered a trip with a friend and headed into the Himalayas for less than ten days! Crazy, yes, but what an unbelievable place and experience.

We headed along the trekking trail from Lukla towards Pangboche on a linear return route which will take you eventually to Everest Base Camp. There was no chance of us completing the full journey on this expedition as we simply did not have enough time, but in five tough days of trekking we at least had magnificent views of the tallest structure on Earth.

Back to Kathmandu for a night and then we headed to Chitwan National Park in the south of the country. This was an epic road journey in itself but worth it to see some of the rare and wonderful creatures that live in the warmer part of the country. The images represent just a snapshot of what can be seen in Nepal and with a limited kit bag too for this trip I was hardly able to shoot a bird photograph the whole time!

April & November 2016 - Hawk Conservancy Trust, Andover, Hampshire, UK
During 2016 I ran my two regular workshops at the Hawk Conservancy Trust in Amport near Andover.

Once again the spring (for wildflowers) and autumn (for colour) workshops proved popular, both being fully booked. Clients were exposed to a variety of weather conditions along with a range of beautiful British and European species (with the odd bird from a little further afield!). This offered a wonderful mix of conditions and opportunities to explore and experiment with...the best way!

Using natural settings and a variety of props it is always great to see the results from the group. Here are a few of the shots I took whilst getting everyone into the 'best' position. This is fundamental to a successful day to ensure the jesses and rings and hidden and making the most of the available light.

For future workshops please visit my events page, however please note that these days are booked up very quickly so book early to avoid disappointment.

16 - 27 September 2016 - Kenya
It is not surprising that anyone interested in wildlife probably has an African safari high on their to do list. Well, I certainly did and I have put it off until now (2016) purely as I wanted the 'right trip' to come along.

In 2015 exhibiting at the British Birdfair I came across a company which offered dedicated photographic opportunities from a vehicle designed for the photographer. With a good travelling friend we went to explore what the Maasai had to offer and in particular to photograph the Blue Wildebeest Connochaetes taurinus migration. This involves tens of thousands of animals crossing the Mara River literally in search of greener pastures. The problem is there are lots of predators and dangerous waters to negotiate!

The drama was incredible and often when little appeared to be happening. The tension and sometimes the sense of death in the air was breathtaking. I will add another post soon with more images of this amazing wildlife spectacle.

I also visited the Nairobi National Park for three nights too. This is an incredible location for wildlife and if all big World cities had similar opportunities for native wildlife then we would be in a much better place for sure.

2 - 8 July 2016 - Tiszaalpár, Hungary Photo Tour
My third successive photo tour to the Kiskunsag National Park and yet again it did not disappoint. With established accommodation and excellent local knowledge we were able to maximise the sites and wildlife.

New pools were discovered this time around, which led to some great images photographing birds into the rising or setting sun (even with atmospheric mist!). We also found a site for watching dozens of Eurasian Spoonbills Platalea leucorodia heading to roost at sunset!

I'm taking a break in 2017 so I can undertake some independent travel as well as allowing the ranger to continue locating and building new opportunities for a tour I will lead in the spring of 2018. The next trip will focus on the breeding birds rather than return passage, so watch this space for more news or sign-up to my quarterly newsletter to be kept informed.

If you would like more information on future tours then please visit my Photo Tours page or email me here.

27 May - 8 June 2016 - France
France offers such a wide variety of habitats, weather conditions and amazing wildlife and a relaxed two week trip to the Aude region in southern France was a great opportunity to explore this area in late spring and into early summer.

Many of the sites were ideal for birdwatching although limited for photography, without the time to set up hides or stalk the wildlife. There are a great number of species here and although the migration was over we still recorded in excess of 105 bird species and 16 species of butterfly without much effort.

For a great place to stay and explore this stunning region which includes many famous castles and wonderful food and wine visit Birding Languedoc.

5 - 20 March 2016 - Ghana
My fourth trip to Africa and another interesting, if not the most productive experience of the continent yet. I joined a birdwatching and nature tour, however opportunities for photography were very limited so if you are keen to take images of the birds and wildlife here, ensure you book on a tour which allows plenty of time to watch the wildlife, rather than tick it off and move on to the next species.

That being said, it was a friendly country, with generally good food (no illnesses), no mosquitoes in the dry season (amazingly) and in two weeks you can cover most of the country and all the top sites. Mole National Park being a particular highlight as big game is still present here, albeit not always easy to observe and you cannot wander off without a ranger.

The driving between areas can be long and rather dull as the roads are pretty poor in places and every village and town appears to be obsessed with speed bumps. The landscape has been heavily deforested and is a monotony of plantations and crops or otherwise lifeless looking scrub during the dry time of year. Otherwise the travelling was not too much of a problem and you can pick up a few species on the way too.

It is an interesting and accessible destination for those wanting to record good numbers of west Africa's bird species and in my two week expedition I recorded some 374 bird species.

For more information on the tours of Ghana please visit Ashanti African Tours.

This is just a very small sample of my images here and there will be a much greater selection on Alamy soon.

12 - 17 February 2016 - Highlands, Scotland
Scotland has always been a favourite destination to visit and over the years I have been many times. My grandfather took me into the Highlands on several occasions and I still feel this is the place I like to go when I return.

This trip with a friend during the winter was specifically focussed on searching for Mountain Hares Lepus timidus in their winter coats. This means you have to be wrapped up as there is likely to be a lot of snow about. We took my VW T5 Transporter campervan and stayed for several nights in the snowy mountains, thankfully only getting stuck once!

The hares performed very well, however we put in a lot of time with them, not rushing but allowing the animals to get used to us and our cameras. This certainly paid off with the resulting images.

14 - 25 November 2015 - The Gambia
My third trip to Africa and another wonderful experience of the continent. I've relaxed into the way of life in the tropics now and I enjoy every minute, whereas perhaps in the past I would have felt a little anxious, especially with all my camera gear!

This adventure was organised by my good friend Ashley Grove who runs birdwatching and photography tours to this gem of a birding country on the west African coast. Surrounded by Senegal, The Gambia River bisects the north and south banks and with a land area smaller than Wales it certainly boasts an impressive and relatively easy to see bird list. In 11 days we scored some 250+ species.

Photographically it is a top location too as many species are relatively confiding and boat rides can also get you into the mangroves and along the river which make birding and shooting all the more fun.

For more information on birding and photography tours please visit Ashley Grove Wild Images and mention you've come via here!

This is just a very small sample of my images. Please visit Alamy for all images for sale from The Gambia 2015.

4-10 July 2015 - Tiszaalpár, Hungary Photo Tour